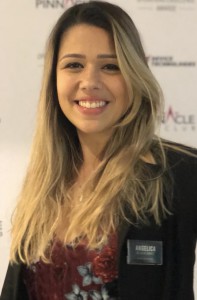 Angelica is a dedicated and charismatic piano teacher residing in Dee Why, but servicing most of Warringah and Manly suburbs.
Angelica has a Bachelor Degree in Music education and over nine years of experience.  Angelica has successfully worked with a variety of students from various multinational backgrounds and ages in her home town in Brazil and Europe.
She started learning music (piano, singing and percussion) very young and is been working with Brazilian popular music for the last 10 years. She also studied conducting at Butler University in Indiana- EUA.
Passionate about a ludic, meaningful and joyful music-learning environment to inspire students having their best experience in class.
Angelica mixes activities,  complimenting structured book method with pop pieces and games
Aged 28, she brings a decade's worth of experience of working with kids, maturity and reliability so that your child has a solid musical path!   Call or text 04012 68742 (04012 MUSIC) today to book a casual lesson with Angelica