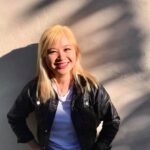 Roxy is a passionate and dedicated musician who loves to share her gift with others. She loves to see people grow and improve in their musicianship, and she is patient and kind in her approach.
Roxy has over 10 years experience and training in vocals, piano and music theory. She is versatile in many different genres and learning styles and is willing to adapt her teaching to the needs of her students.
Her education in music includes a Diploma in Music at Lasalle College of the Arts Majoring in Vocals from Singapore, and an Advanced Diploma of Creative Arts in Christian Ministry Specialising in Contemporary Music and Worship Leading from C3 College, Sydney. Roxy has received vocal training from Julia Michaels, who is a well-known industry professional in Sydney, and has extensive performance experience with weddings and cooperate gigs, leading bands and worship teams. She has also appeared on commercials and TV shows in Singapore, including being a semi-finalist on the TV program "Power Duet".
Not only that, Roxy has experience in songwriting. She wrote a song called "Shine", which was released in 2019 under C3 Kids, and has written many other songs which she has performed at her final C3 College recital.
In terms of her teaching background, she has taught both private and group classes for piano and vocal lessons for ages 3-60. She is extremely strong in her music theory and is able to guide students in a way that will encourage the fundamentals of music, so they have the skills to play any song they want. Roxy has been teaching music now for 5 years and aspires to pursue a music career, including writing her first album in 2021.
If you're looking for someone who will guide you in contemporary music, or work on a theory-based music program, she will be your best fit!