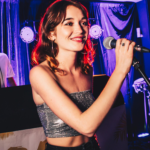 Tina is a very motivated and talented, classically trained singer and  pianist.
She has taught Music in Australia for nearly 5 years. Prior to that she was a music teacher at the Elementary Art School of Prague for 3 years.
She studied at the Prague Music Conservatory, and came from a very music family and was a regular performer for the Theatre F.X. Salda and National Theatre of Prague.
Tina started her music journey into professional contemporary singing with Starfish Vocal Studio, then in mid 2017 Tina was offered a 6 month performing contract based in Dubai, this was a wonderful opportunity where Tina gained valuable performance experience. She is also studying Music at the Tertiary level in Sydney doing a Bachelor of Contemporary Music at AIM and performing here in Australia.